Depression: 6
Anxiety: 6
The session: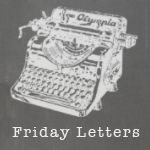 Dear big decision I made:
I'm coming to terms with you, but that doesn't mean I don't still question myself. Or that I'm 100% ok with you. I'm just trying to do the best I can.
Dear Xanax:
You're my favorite, but don't tell the others.
Dear rainy football weekend:
You sure took your sweet time to get here, but I'd be happy for you to stay.
Dear first week back to work:
Thank you for being (mostly) gentle with me.
Dear coworker:
Thank you for the conversation. I understand my time away was difficult and I really appreciate the work you did and then coming to me with your feelings. I feel better with the air cleared between us, and you kicked ass on the project.
Dear other coworkers:
Thank you so much for the "whoooo loves you" owl picture frame with the Buddy Christ in it and the owl dish for my return. You really made my day and helped me feel significantly less anxious about an unfortunate situation.
Dear best friend:
I am so excited for you that you're moving to California. Forgive me my own tantrum that you're leaving me :) Sad panda.
Dear public library:
Thank you for letting me check out ebooks without leaving the comfort of my couch!
Dear followers and commenters:
Thanks for making me feel special and like I'm not out here all by myself. It really, really helps!
Dear work presentation:
L-Hulk smash!